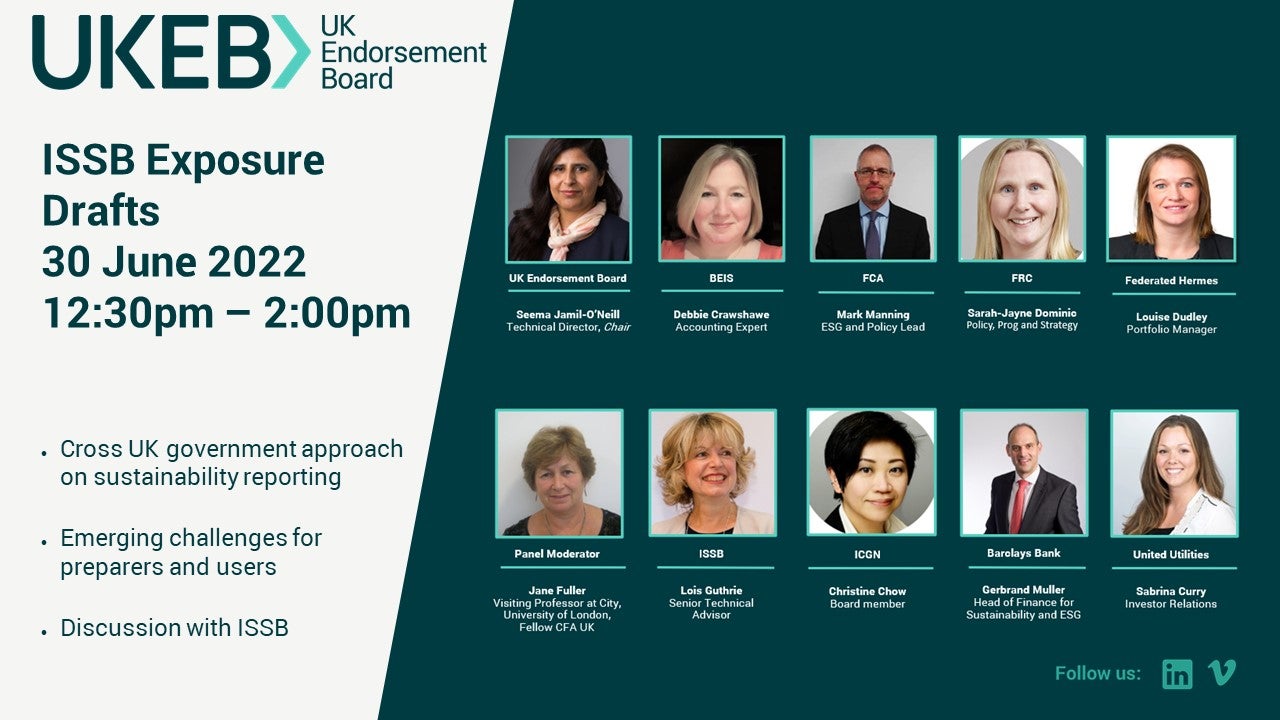 Register for this event
If you wish to take part in this webinar you must register here.
Event Description
Cross UK government approach on sustainability reporting
Emerging challenges for preparers and users
Discussion with ISSB
Introduction and Regulatory Overview
Welcoming remarks from the Chair:
Seema Jamil-O'Neill (Technical Director, UKEB)
Cross government approach on sustainability reporting:
Department for Business, Enterprise, Industrial Strategy (BEIS) - Debbie Crawshawe
Financial Conduct Authority (FCA) - Mark Manning
Financial Reporting Council (FRC) - Sarah-Jayne Dominic
ISSB sustainability disclosures – panel discussion
Welcoming remarks from moderator:
Jane Fuller (former Financial Editor of the Financial Times, Fellow of CFA UK and visiting Professor at City, University of London)
Panel members:
International Sustainability Standards Board (ISSB) - Lois Guthrie, Special Advisor
Barclays Bank - Gerbrand Muller, Head of Finance for Sustainability and ESG
United Utilities - Sabrina Curry, Investor Relations
International Corporate Governance Network (ICGN) - Christine Chow, Board Member
UK Endorsement Board (UKEB) - Seema Jamil-O'Neill, Technical Director
Financial Conduct Authority (FCA) - Mark Manning, ESG Policy Lead
Concluding remarks:
Seema Jamil-O'Neill (Technical Director, UKEB)
Panel Member Profiles
Seema Jamil-O'Neill – UKEB, Technical Director (Chair)
The UKEB is responsible for influencing the development of IFRS accounting standards and their adoption for use by UK listed companies. Between January 2017 to April 2020, Seema worked at the UK Department for Business, Energy and Industrial Strategy as the Head of Accounting and Reporting Policy. Seema led the team responsible for maintaining the integrity of UK's Accounting and Reporting Framework as the UK exited the EU. In that role, Seema also represented the UK at the European Commission's Accounting Regulatory Committee, Council working groups, the UN's Accounting Expert Group and at numerous UN conferences. Seema is a fellow of the Institute for Chartered Accountants in England and Wales.
Regulatory Presenters
Debbie Crawshawe - Department for Business, Energy and Industrial Strategy (BEIS)
Debbie is a Chartered Accountant with over 20 years of regulatory experience across both financial and non-financial reporting. She is the Accounting Expert in the Business Frameworks directorate within BEIS, having previously worked in a variety of policy and monitoring roles in the Financial Reporting Council and the Financial Conduct Authority. Her current focus is the creation of the Sustainability Disclosures Requirements regime (SDR) in the UK for corporates. This includes the creation of a mechanism to adopt and endorse international sustainability standards for use in the UK and creating reporting regimes to enable companies to report against both UK adopted international sustainability standards and against the UK's Green Taxonomy.
Mark Manning – FCA, Policy Lead Sustainable Finance and Investor Stewardship
Mark leads the FCA's policy work on sustainable finance and investor stewardship. In this role, he is responsible for several initiatives, including the FCA's implementation of the TCFD's recommendations and the FCA's work with IOSCO on corporate reporting standards on sustainability. Prior to joining the FCA in 2018, Mark spent fifteen years as a central banker with the Bank of England (BoE) and the Reserve Bank of Australia (RBA). He held a number of senior roles, with a particular focus on policy, research and supervision in the field of financial market infrastructures (FMIs).
Sarah-Jayne Dominic – FRC
Sarah-Jayne is a Chartered Accountant (ICAS) and Practitioner Member of IEMA. She has experience in sustainability reporting, financial reporting, application and development of sustainability standards, external assurance (financial and non-financial), policy and strategy development. Sarah-Jayne has worked at PwC and the Global Reporting Initiative and now works in standard setting and public policy at the FRC.
Discussion Panel Presenters
Jane Fuller – Discussion Panel Chair
Jane is a fellow of CFA Society of the UK and a visiting professor at City, University of London. She spent 19 years at the Financial Times, where her roles included Financial Editor, Assistant Editor and Lex writer, and she continues to train FT journalists. She is also a regular columnist for the ACCA's digital magazine, Accounting and Business, senior fellow at the Centre for the Study of Financial Innovation and an honorary fellow of the Chartered Institute for Securities & Investment.
Lois Guthrie – ISSB, Special Advisor
Lois joined the Carbon Disclosure Project (now CDP) in 2004, she simultaneously developed a career in climate and natural capital corporate reporting. Lois is the founding director of the Climate Disclosure Standards Board and also worked for the International Integrated Reporting Council as a Technical Director during the development of the <IR> Framework. Lois was a director at the World Business Council for Sustainable Development for five years. She joined the IFRS Foundation in February 2022 as a Special Advisor to the International Sustainability Standards Board.
Gerbrand Muller – Barclays Bank
Gerbrand is the Head of Finance Sustainability and ESG. He is passionate to work with peers and regulators to drive the development of consistent and insightful reporting. Gerbrand has held a number of senior roles at Barclays including Head of Fixed Income and Non-Core Product Control, and Head of Group Financial and Regulatory Reporting, before establishing and leading the Planning & Stress testing Transaction Cycle. Most recently, he was Transformation Lead for Risk and Finance. Gerbrand joined Barclays in 2008 from Merrill Lynch and is a qualified accountant.
Sabrina Curry – United Utilities
Sabrina has worked for United Utilities for over 10 years, with five years' experience in narrative reporting preparing the Group's strategic report. Through this time she has driven continual improvements in our reporting, being early adopters with enhanced disclosures in several areas and moving to a broader multi-stakeholder view of value creation, and we have received several awards for our reporting over that period.
Christine Chow - ICGN Board member
Christine is an Appointed Adviser of the Financial Reporting Council HK and a board member of ICGN, led by global investors responsible for assets under management in excess of US$70 trillion. She was a Member of the UK All Party Parliamentary Group on AI; an Adjunct Associate Professor at the Hong Kong University of Science and Technology (FT ranks EMBA World No.1); a Member of the Greater China Committee of the Hong Kong Retirement Funds Association (2013 - 2015) and the Director of the first public-philanthropic collaboration programme for social innovation in Hong Kong.
Louise Dudley - Federated Hermes
Louise leads the ESG and responsible investment research strategy for the Global Equities team. A CFA charterholder, she is a board member of the UK Sustainable Investment & Finance Association and in 2017 was named one of Financial News's Rising Stars of Asset Management.
Seema Jamil-O'Neill – UKEB and Mark Manning – FCA will also be members of the discussion panel.